I was privileged to work over the last year developing an online course with MITx.  This was my first introduction to the world of MOOC's, Massive Online Open Courseware, and the edx.org platform.  The model is a fresh take on education, allowing thousands of students across the globe to enroll in courses offered by leading institutions.  The courses are free and open to anyone.  It's a fascinating new approach to education, and an area that I will be exploring further.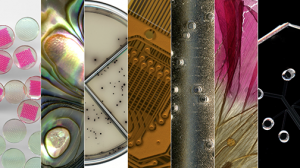 This course was entitled "Making Science and Engineering Pictures: A Practical Guide to Presenting Your Work".   Taught by science photographer Felice Frankel, the course ran for 6 weeks (plus an introductory 'week zero') between July 14 – August 2, 2015.   We had over 9,000 students enrolled, and saw some really wonderful work that they produced during these six weeks.  Our team included Robin Heyden as instructional designer; technical help from the MITx side came from Shelly Upton, Caitlin Steir.
My role in this project was as the media designer.  Felice had hundreds of photographs, lecture notes, text from her books, and plans for the curriculum, but it took a lot of work for us to weave all the material into a cohesive course. She started her process with recording voiceovers with accompanying photos, a basic slide show to get the ideas started.  I would take all the assets that Felice provided, editing the original photos, making new illustrations and animations, editing the audio.  This was a total Adobe CC project:  I used Photoshop and Illustrator for the visual editing and drawing tasks, Audition for the audio edits, and assembled the final videos in After Effects.  Felice and I would then spend hours to revise, edit, and refine them all; Felice had a very specific idea about how she wanted to present her materials and we worked hard to make that vision happen.  In all, we had over 30 of these video tutorials, approximately 4 hours of video content.  The short demo in this post shows a few of the highlights from this project – there were a lot of scenes that were technically challenging to make, but added a lot to the quality of our lessons.
The final steps were uploading all the content to the edx site.  I became the course author as well, mainly because I was intimately aware of each and every asset that we were using, and how they needed to fit in to the final layout.  As course author, I worked with the MITx production team to make sure our videos were uploaded to the edx server, sent out for the transcription service, placed into the appropriate page.  My WordPress experience came in very useful, as the edx platform, from the backend, is just a content management system, with a logic very similar to WordPress.  There were a few instances where I had to get into the code to tweak small things, so my basic HTML knowledge was useful as well.
During the active running of the course, I then helped out as a Teaching Assistant; monitoring the discussion forum and commenting on some student work.  Our students comprised a wide range of demographics, educational background, and photography experience.  It was quite rewarding to see the work that they were producing!
You can follow more about our EdX production process in Production Notes: Part 2.