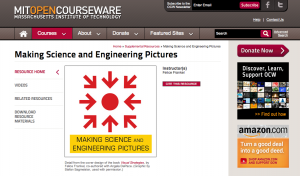 I've been working recently in the world of MOOC's (Massive Online Open Courseware).   This project is in collaboration with MIT, the course instructor is Research Scientist Felice Frankel.   The full course will be published through MITx (on edx.org) in summer 2015, but we've released a preview of it on MIT Open Courseware — you can view it here: "Making Science and Engineering Pictures".   The full course has 6 weeks of material, here on the OCW preview we've included the videos from just the first week of this full course.
The project is entirely done in After Effects and the Adobe creative suite.  I prepared images in Photoshop, created vector art in Illustrator, edited all the audio, animated images and text in After Effects.   This project also incorporates screen flow captures, which I edited in After Effects as well.
It's been an interesting collaboration as we're creating a curriculum that thousands of students will interact with, and will be accessed around the world.  I'm able to see the very involved process of pre-production, all the planning stages that surround a big project like this.   Stay tuned for future updates about this EdX course!